Activities

If you want to know where and when to meet me, check out:
Michael on the road 2018 and 2019.
My current and upcoming books:
2019.
Programming Kubernetes
will teach you how to use and extend Kubernetes programmatically in Go. We cover low-level Kubernetes API access using the
client-go
package, automated approaches the operator pattern as well as cloud native programming languages.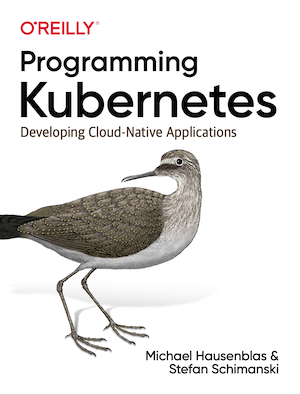 2018.
Kubernetes Security
covers securing clusters, secure image builds and running containers, authn & authz, secrets, and more.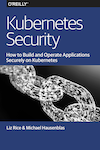 2018.
Kubernetes Cookbook
is a collection of recipies for developers and admins that my buddy Sébastien Goasguen and I put together.


2016.
Serverless Ops—A Beginners Guide For Serverless Operations
covers the serverless ecosystem and how to approach the serverless paradigm from an ops perspective.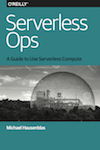 Some of my active projects:
Upcoming: cloudnaive.online, a bi-weekly show on cloud native security topics, including but not limited to Kubernetes and serverless offerings such as AWS Lambda.
Sharing thoughts around using cloud native technologies, incl. Kubernetes, observability tools, service meshes, and serverless offerings via boringis.cool.
Maintaining tools and techniques around troubleshooting Kubernetes apps.
Started to collect resources around stateful Kubernetes apps and tooling.
Contributing to Kubeflow, the machine learning on Kubernetes environment.
Creating KAML-D, the Kubernetes Advanced Machine Learning & Data Engineering Platform.
Developing kubed-sh, the Kubernetes cluster shell for the casual cluster user.
Keeping folks up-to-date on the emerging application area of Machine Learning on Kubernetes via kube-machine-learning.rocks.
Helping people to learn Kubernetes via kubernetesbyexample.com.
Writing a weekly newsletter via new.appops.info on all things appops, covering topics from Go to CI/CD pipelines to containers.
Running the Cloud Native Ireland meetup as founder.
Serving on Programme Commitees such as KubeCon + CloudNativeCon, O'Reilly Velocity, and Red Hat Summit.
Speaking at events, for example: GopherCon, ContainerCamp, O'Reilly Velocity, ContainerSched, Software Circus, DevOpsCon, distributed matters, FOSDEM, O'Reilly Strata, Devoxx, Hadoop Summit, OSCON, Thingmonk, various user groups all over the place—most of my presentations are available via speakerdeck.com.
A list of all advocacy sites I've ever done is also available.
More ...
Some of my past activities:
Even more ...
Consider checking out my weekly newsletter
appops reloaded
on all things containers, devops, cloud native apps, CI/CD, microservices with Docker, Kubernetes, and OpenShift.
Hosted on GitHub Pages — Theme by orderedlist